ACARS is a complex system which consists of several software mod ules which cooperate. Depending on whether you want to simulate an airplane or a dispatch/ATC station, you need another module.

In most cases, you really want to use the normal ACARS server, reachable at the internet. But in some cases it comes in handy to run a mini server yourselves. This is the program you need for it.

Take care that nice features such as METAR and TAF retrieval will not work with the mini server, as it does not at all go out onto the internet for data. It also does not support file uploads and downloads (though this can all be added, if need really be).
Project Progress
2019-05-01 Netcraft has officially withdrawn their complaint and determined that their warning nr. 6025501 was a false positive.
2019-04-29 There are suddenly warnings floating around that the ACARS-for-MSFS single installer, available from https://www.hoppie.nl/acars/prg/acars-msfs/, is a malware distributor: https://incident.netcraft.com/3bf/3bf4169074b5 As far as I can track it, it was last restored from backup in February 2018 when I moved my server and it still is the same as when I originally compiled it in August 2010. Even the Wayback Machine has exactly the same file dated 2016.
see all previous progress messages
---
Installation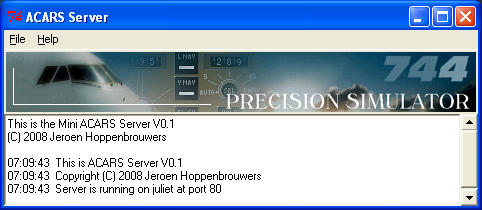 Fetch the install file and run it. It will create a start icon for you.

The program comes up with a single window and needs zero configuration. If you want, you can change the TCP port number via File/Setup, but then you must also include this port number in all your ACARS stations.

Typically, you use "localhost" in your stations to point at the ACARS mini server if it runs on the same machine as the stations. You may use "localhost:5000" if you changed the TCP port to 5000. All normal URL syntax is allowed, such as "http://192.168.0.1:5000" or host names if you have them.

By making the port number empty, the default 80 returns.

Source Code
If you would like to peek at the sources or extend the program, you're welcome.