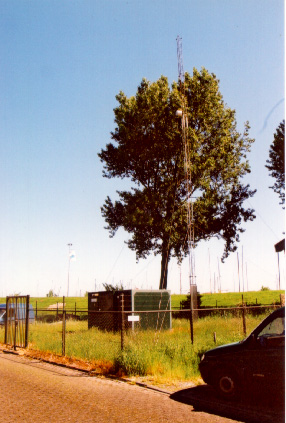 Picture taken May 24, 2001
The STD beacon in full glory. The green dike in the background protects it against the Haringvliet, a major outlet of the Maas and Waal rivers. The Haringvliet spills into the North sea, but there is a huge waterlock complex (Haringvlietsluizen) in between to regulate the water levels in a large part of the Netherlands.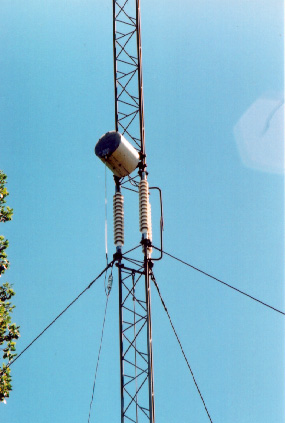 Picture taken May 24, 2001
Detail of the actual transmitter array. You can see the isolators that set apart the top of the tower, the resonance coil, the spark bridge, and the wire feeding the signal into the antenna (from the bottom-left).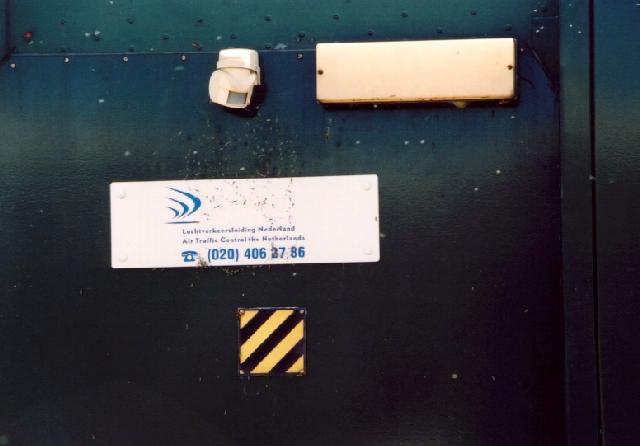 Picture taken May 24, 2001
Detail of the beacon hut. The telephone number plate is fixed to every beacon in the Netherlands. The infrared detector likely is for the light next to it. Together with the house number (44) it makes the beacon look like somebody actually lives there. The infrared sensor is a nice touch; the RKN beacon has to come by with only a normal switch.
Page updated 2008-12-31